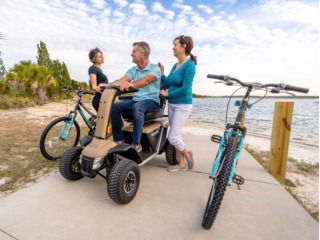 Recreational scooters made for those who want a little more than just mobility. Heavy duty & Large Recreational scooters, are ideal for outdoor use on large areas of land or mobile home communities.
These larger scooters are designed for those looking for greater speeds, distance and terrain capabilities. Most recreational scooters give you all this without the feeling of a standard mobility with slower speeds and limited terrain restrictions.
There are may styles of recreational scooter designed with all different styles in mind like a the all-new Pride Wrangler with its ATV styling to the three and four wheel Euro style scooters.
*All buy it now prices are for Online sales only. These scooters are NOT road Legal .